Wassily Kandinsky, Point & ligne sur plan. Punkt und Linie zu Fläche. Point and line to plane.



Point
Punkt


geometrische Punkt
Point géométrique
geometric point

So ist der geometrische Punkt in unserer Vorstellung die höchste und höchst einzelne Verbindung von Schweigen und Sprechen.
Le Point géométrique est, selon notre conception, l'ultime & unique union du silence & de la parole.
Thus we look upon the geometric point as the ultimate and most singular union of silence and speech.



Deshalb hat der geometrische Punkt seine materielle Form in erster Linie in der Schrift gefunden — er gehört zur Sprache und bedeutet Schweigen.
C'est pour cela que le point géométrique a trouvé sa forme matérielle en premier lieu dans l'écriture. Il appartient au langage & signifie silence.
The geometric point has, therefore, been given its material form, in the first instance, in writing. It belongs to language and signifies silence.




Form. Forme



In realer Form kann der Punkt unendlich viele Gestalten annehmen :
Dans sa forme réelle le point peut prendre un nombre infini d'apparences :
In its material form, the point can assume an unlimited number of shapes :




seine Kreisform kann ganz kleine Zacken bekommen,
à sa forme circulaire peuvent s'ajouter de petites dentelures,
it can become jagged,



er kann eine Neigung zu anderen geometrischen ...
il peut pencher vers d'autres formes géométriques ...
it can move in the direction of other geometric forms ...



... und schließlich zu freien Formen entwickeln.
... ou même libres.
... and finally develop into entirely free shapes




Er kann spitz sein und zum Dreieck neigen.
Il peut être pointu & s'approcher du triangle.
It can be pointed and tend towards the triangular.




Und durch ein Verlangen nach relativer Unbeweglichkeit geht er zum Quadrat über.
Par une tendance vers une relative immobilité, il se fait carré.
Or, prompted by an urge for relative immobility, it can take on the shape of a square.






können die Zacken kleinlich oder aber großzügig sein ...
ses dentelures peuvent être minutieuses ou généreuses ...
the elongated projections can be of smaller or larger size ...


... und sich in verschiedenen Verhältnissen zueinander stellen.
... & se trouver dans des rapports multiples.
and take on a relationship to one another.



Hier sind keine Grenzen festzustellen, und das Reich der Punkte ist unbegrenzt (Fig. 3).
Nous ne pouvons définir de limites, le domaine des points est illimité.
Here no boundaries can be fixed and the realm of points is unlimited (Fig. 3).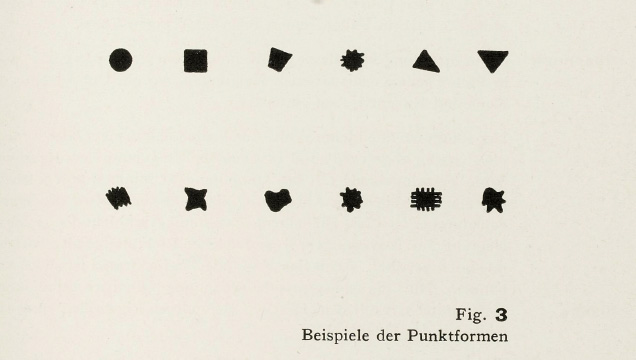 traduction anglaise : Howard Dearstyne et Hilla Rebay © α ?