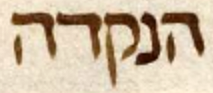 Cantique des cantiques I. 11. Nous te ferons des colliers d'or, Avec des points d'argent.
Cantico cantici I.11. Noi ti faremo delle collane d'oro con de' punti d'argento
Song of Salomon I. 11. We will make thee borders of gold with studs of silver.
Hohelied I. 11. Wir wollen dir goldene Kettchen machen mit Punkten von Silber.






Genèse XXX. 39. Les brebis entraient en chaleur près des branches, et elles faisaient des petits rayés, tachetés et marquetés.
Genesis XXX.39. And the flocks conceived before the rods, and brought forth cattle ringstraked, speckled, and spotted.
1 Mose. XXX. 39. Also empfingen die Herden über den Stäben und brachten Sprenklinge, Gefleckte und Bunte.
Genesi. XXX. 39. Così gli animali entravano in calore davanti alle verghe e figliavano agnelli striati, chiazzati e punteggiati.
Génesis XXX. 39. E concebiam os rebanhos diante das varas, e as ovelhas davam crias listradas, salpicadas e malhadas.

Σ © α ?